---
Do you know what it feels like to walk on the moon?
Chances are, no, as few people have ever had that opportunity. What about the feeling of exhilaration that accompanies winning a race, scoring the winning point or sharing a laugh with friends?
We all have a range of thoughts, experiences and emotions every day as we navigate the world around us. We experience the world through our own eyes and senses, and more often than not, we make assumptions based on our own experiences. While this is perfectly normal, the downside is that products and programs we design can miss the mark when our target audience's life experience is different from own.
Firstly, let's be clear about what empathy is.
Here's one definition. Empathy is feeling what others feel.

More then listening and observing, it requires us to immerse ourselves in the experiences of others so that we actually feel the same sense of joy, pain or frustration.
How might we use empathy as an innovation tool in sport?
It depends on the user group. In creating new modified, social sport products, we might conduct empathy experiments to better understand our target user group, such as people living in growth suburbs, or less active parents of newborn babies.
The first step is to define what you would like to learn. Here's an example.
What does it feel like not to have a car to get to a sporting activity?
If this was your question, you might ditch your car, meaning you have to take two connecting buses to a sporting activity, and then take two buses home – stopping for some shopping too. The experiment might make you feel frustrated by the time required to get to and from the activity. This would provide a powerful understanding of your audience and motivate you to think creatively about how you could remove barriers such as transport.
A real world example of an empathy based program is Disability Sport & Recreation's Wheel Talk program, which allows school students to hear from wheelchair based athletes and experience wheelchair AFL or basketball by playing a game together.
Empathy is the first stage of the design thinking process. The following links provide more information about empathy in design:
Design Thinking: Getting Started with Empathy
The empathy mindset – design toolkit


Thanks to VicHealth for supporting Vicsport's Forward Thinking Series.
Tom Dixon
Participation Strategy Manager
Vicsport
tomd@vicsport.com.au
You may also be interested in...
#health
,
#industry
,
#sma
Concussion in sport - what you need to know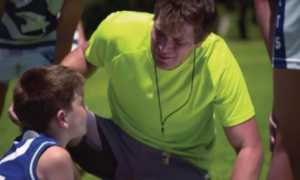 There is growing concern in Australia and internationally about the incidence of sport-related concussion and potential health ramifications for athletes