Industry
Women's Sport Takes Center Stage In Victoria
---
The push to encourage more Victorian women and girls active through sport and recreation received a massive boost yesterday with VicHealth announcing $6.7 million in funding over the next three years.
As the announcement played out, Minister for Health Jill Hennessy, Minister for Sport John Eren and VicHealth CEO Jerril Rechter were positive this new investment to increase the profile of women's sport was a step in the right direction of achieving gender equality in Victorian sport.
Mnister Hennessy: "Participation in sport and physical activity is the key to better health and wellbeing. This new funding will deliver more opportunities for women and girls to get involved in grassroots sports and physical activity."

Minister Hennessey ran the message home yet again emphasising that the funding is an opportunity to get 'everyday' women involved in active recreation and sport. "You don't have to be Wonder Woman to play sport. Gender equality really counts. It's the way to ensure everyone in our society gets a fair go."
Held at the State Netball and Hockey Centre in Parkville, ambassadors from sporting organisations receiving the funding were thrilled at the announcement.
Kirsten Beams from the Melbourne Stars and Sophie Molineux from Melbourne Rebels said, "Today is a proud day to play sport in Victoria."

AFLW player Cat Phillips who competes in Ultimate (Frisbee) Victoria said, "Looking at all the things I've gotten out of playing sport, I feel more confident, happier and active and I want all young girls to have that where they're growing up."

Minister Eren: "Victoria is the leading way when it comes to levelling the playing field for women's sport and this funding will ensure that momentum continues – encouraging even more women and girls to play the game they love."
VicHealth CEO Jerril Rechter hopes to encourage more than 23,000 women to become physically active through various activities "in whatever way, shape or manner they choose."
"We're working with a wide range of sports organisations – from netball and cricket, to frisbee and lawn bowls – to deliver new and modified programs that address the barriers women face when trying to get active."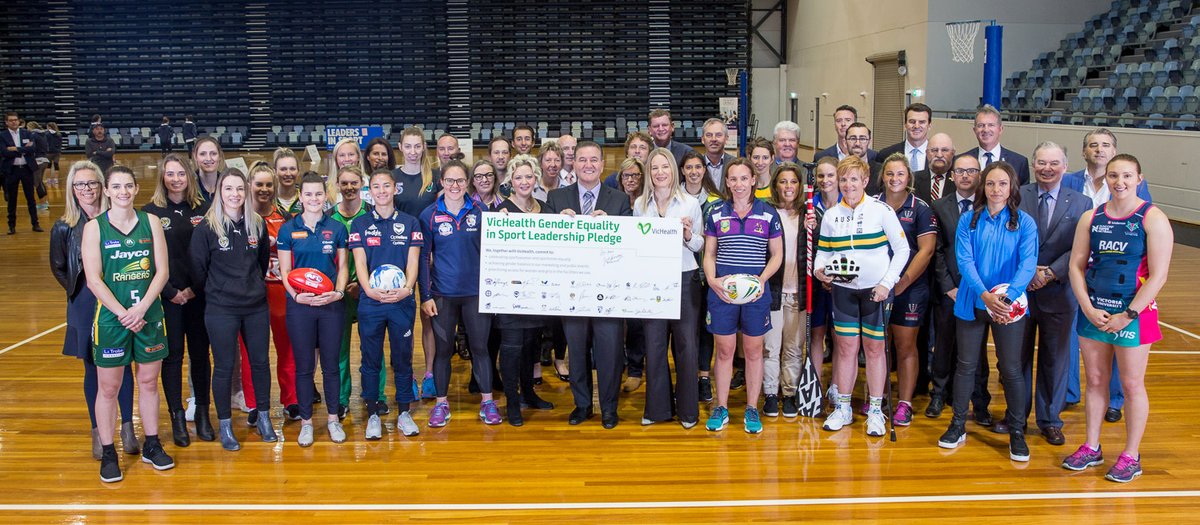 As part of the new program, all funded sporting organisations signed the VicHealth Gender Equality in Sport Leadership Pledge, demonstrating their commitment to achieving gender balance at their organisations.
To support this new investment Vicsport has launched a suite of resources on the Vicsport Healthy and Welcoming Sport website to provide guidance for grassroots clubs to make their sport more welcoming and inclusive for women and girls.

The following sporting organisations will share in $2.9 million to create, tailored participation opportunities for women and girls to get involved in sport and physical activity:
Bowls Victoria
Cricket Victoria
Football Federation Victoria
Netball Victoria
Surfing Victoria
Touch Football Victoria
Ultimate (Frisbee) Victoria
Victorian Rugby Union
The following sports clubs and organisations will share in $3.8 million to promote gender equality and increase the profile of women's sport by promoting the This Girl Can campaign to fans and local sporting clubs across Victoria:
AFL Victoria
Basketball Victoria
Cricket Victoria
Cycling Australia
Hockey Australia
Melbourne City Football Club
Melbourne Victory
Netball Victoria
Richmond Football Club
Tennis Victoria
Victorian Institute of Sport
Victorian Olympic Council
Western Bulldogs Football Club
You may also be interested in...