---
La Trobe University and the AFL Players' Association hosted an intimate breakfast symposium to create dialogue on the important issue of elite athlete welfare at Port Melbourne's Lifeguards@200 on Wednesday morning.
A scenic view of Port Melbourne beach played backdrop to the all-star panel of Olympic gold medallist Mack Horton, Melbourne City FC women's Captain Steph Catley and 300-game AFL player Nick Dal Santo.
La Trobe Senior Lecturer and media professional, David Lowden, drew insightful commentary from the panel members, as they deliberated pressures experienced by Australian athletes, especially in the modern media landscape.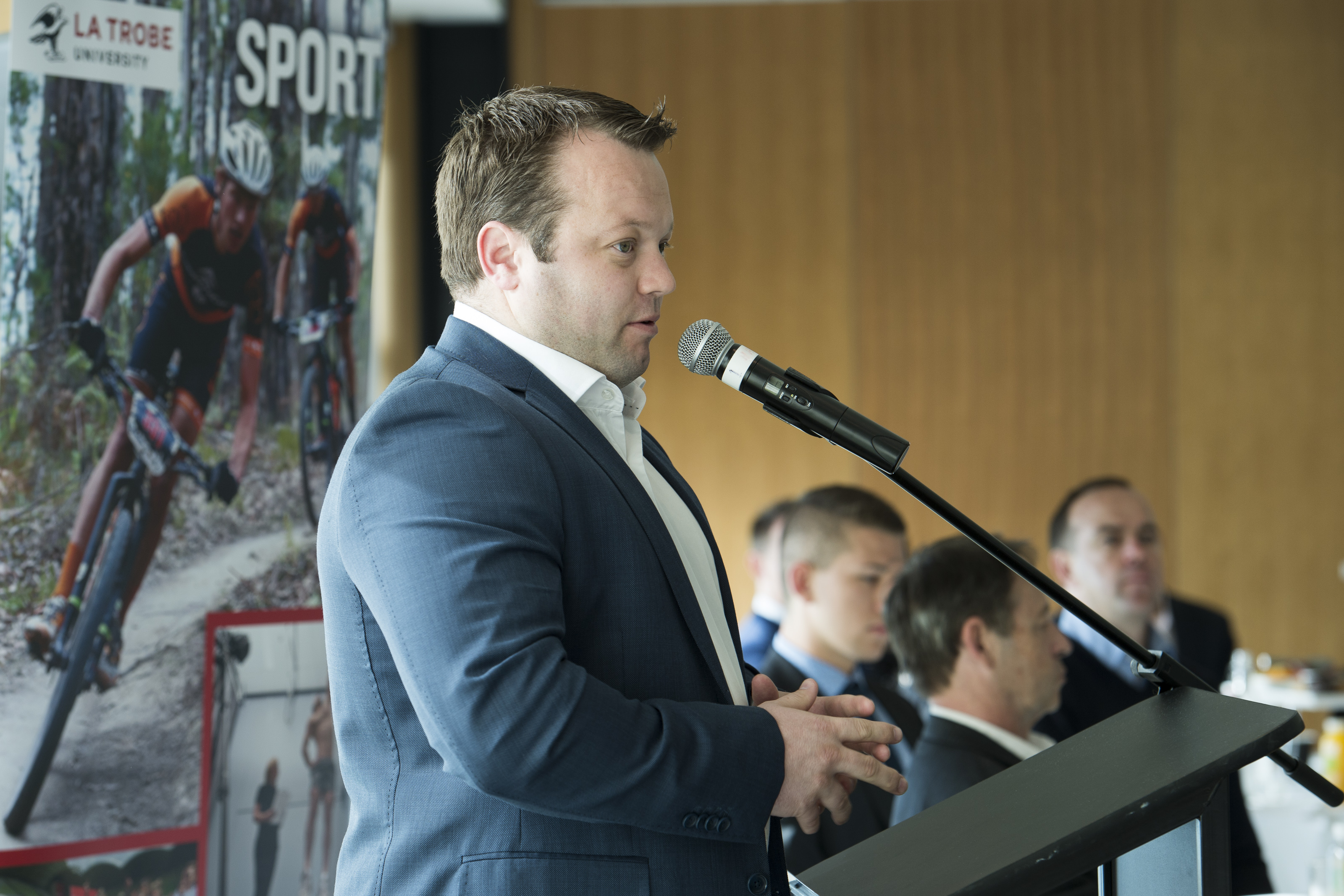 AFLPA sport psychologist Dave Williams
A sold out room of industry leaders, sport executives, higher education, and government representatives were treated to candid stories from the coalface of elite and professional sport.

Dave Williams, an accomplished sport psychologist from the AFLPA provided expert context prior to the discussion, highlighting that 'just because they have super abilities doesn't mean they don't have feelings.'
Director of La Trobe Sport, Professor Russ Hoye stated 'it's not every day you get to hear from such a diverse trio of athletes,' with each guest able to approach the subject from a unique angle.
Horton shed interesting light on the intense scrutiny that he, and the Australian swim team, faced in the lead up to Rio, stating 'I am a little bit of a psycho in that I thrive under the pressure'.
This quality held him in good stead as his social media accounts exploded with over 570,000 'hate' comments as a result of 'calling out a whole country.'
"The Aussie swim team is a perfect example of the downside of public pressure," said Horton. "We have a policy where we don't talk about media to each other."
Melbourne City FC women's Captain Steph Catley

Dal Santo drew upon his own personal experiences throughout a coveted 15 season AFL career to outline the impact social media has made on the pressure footballer's face.
The former Saint and Kangaroo said he has been called out after a poor game in the middle of a busy Melbourne café and faced even stronger scrutiny online.
In reflection of this, Dal Santo told the audience that one of the greatest pieces of advice he can give upcoming athletes is to stay genuine to yourself.
"As soon as you're out of the system you realise you never speak your mind that much," said Dal Santo. "Footballers are only young boys who make a lot of mistakes."
Matilda's star Catley spoke about rising to prominence on the back of a booming 12 months in women's sport.

Catley said that while in her earlier soccer career negative comments would affect her greatly, with the increased public attention it has meant she has to 'become numb to positive and negative comments'.
"I've learnt through football that the feedback you get is only important from certain people."
Catley also confessed that following a disappointing performance it can be difficult to meet young fans.
From left to right: Steph Cately, Mack Horton and Nick Dal Santo
"Only recently it's dawned on me that little kids look up to me," said Catley. "I take a lot of pride in sharing my stories."
Professor Hoye closed by saying "it is important that the partnership between La Trobe and the AFLPA delivers symposiums that continue to tackle important topics like athlete welfare."
"In a world full of armchair critics and social and mass media coverage, we, industry, government and sports fans, all have a responsibility to look after the wellbeing of our athletes."
---
Credit: La Trobe University
You may also be interested in...