Vicsport's task, which drives its direction and enthusiasm, is to encourage and assist more Victorians and Victorian communities to enjoy the enormous benefits that sport and active recreation can provide.
Who is VicSport?
Sport and active recreation is the single largest community sector in the state. For over 30 years Vicsport has represented the sector providing advice, assistance and support to its members and the broader sports community. The constituency includes 16,000 clubs and associations and an estimated 1.8 million participants, paid staff and volunteers who make a significant contribution to the social, physical, mental and economic well being of our communities.
Our essential purpose is to advance Victorian sport and active recreation, by building the capacity and capability of members and stakeholders to encourage and enable greater participation.
Our ultimate aim is to improve the experience of participants; the players, the coaches, the officials, the administrators and the volunteers. Vicsport provides benefits to members and stakeholders, who in turn provide benefits to participants.
Latest News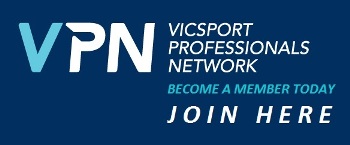 Register: Free

Date: Tue Dec 13 2016
Register
Register: Free

Date: Wed Dec 14 2016
Register
General Admission: Free

Date: Tue Jan 24 2017
Register
Register: Free

Date: Thu Feb 16 2017
Register
Register: Free

Date: Wed Feb 22 2017
Register
---
Sign up to our newsletter